EXPERIENCE
Miriam, Dick and Linda Spaulding
As a family business, Miriam, Dick and Linda Spaulding have been sharing GNLD/Neo-Life products for good health and business since 1960. Miriam was one of the first Neo-Life distributors, and has built the business steadily through over 40 years of dedication.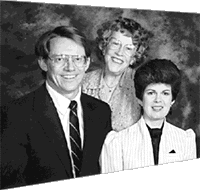 Miriam Spaulding has been active in the health and nutrition field for over 60 years. Miriam's interest in whole foods, natural health and food supplements pre-dates most public awareness of these topics. Miriam is a strong believer in good nutrition and its link to good health. Early in life, she realized that we do not get all the nutrients we need from our diet, and food supplements are essential.
With over 40 years experience as a distributor with the GNLD/Neo-Life Company, Miriam has achieved many "firsts." She was the first Neo-Life Car Club member, the first President's Award winner, the first Founder's Award winner, and the first Million-Dollar Club member. Her philosophy of embracing a positive mental attitude, personal caring and sharing has developed a strong and loyal team of successful GNLD/Neo-Life distributors and clients.
Linda provides a strong background in clinical nutrition, and works with clients to be sure they have the proper nutrition program for their needs. She conducts training programs for customers and distributors.
Dick brings over 25 years of scientific research and management experience to the Nutrition Works team, managing the business and outreach of the team.
With over 4000 GNLD distributors and customers worldwide, the Spaulding team produces annual retail sales of over $3.5 million.
We are proud of our association with GNLD.